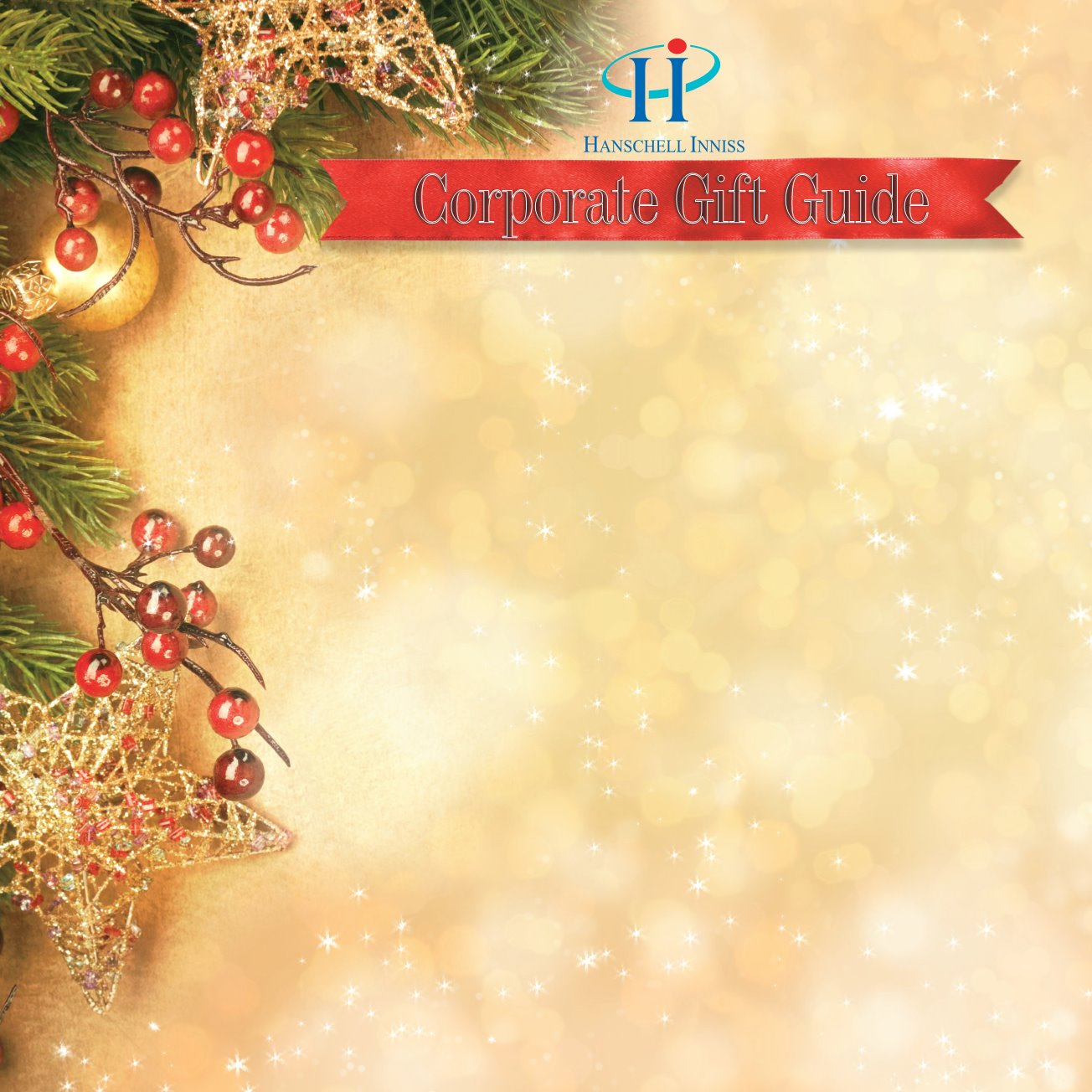 B
Hanschell Inniss Ltd. is pleased
to present you with our exciting
Wines, Spirits & Food Corporate Gift
Guide 2016.
This Corporate Gift Guide showcases
a wonderful selection of products that
we carry: from our new and exciting
lines of chocolates and biscuits to our
mouth-watering foods and our fine
selection of wines and spirits!
PRICING POLICY
The attractive prices herein are being offered to
you our valued corporate sales customers. Please
feel free to contact any of our representatives to
discuss your requirements or place orders with
us.
CHRISTMAS SERVICES
VOUCHER PROGRAMME
Can't decide on what to give a friend, family
member or loved one during this holiday season?
Don't let them feel left out! With Hanschell Inniss
Ltd. you can give a Cash Gift Voucher of $50,
$75 or even $100 redeemable at our Hanschell
Inniss Sales Centre towards any products of their
choice. Product Vouchers are also available for the
redemption of Farmer's Choice Hams, succulent
turkeys and many other products. Please refer to
the opposite page for further details.
GIFT WRAP SERVICE
During this hectic season, many of us just can't
find the time to make that fine bottle of wine or a
delicious box of chocolates seem extra special for
that special someone. With Hanschell Inniss Ltd.,
you can place your orders with us and have them
gift wrapped, all in just one easy step.
TERMS AND CONDITIONS
In an effort to ensure a comfortable buying
experience to you our valued customers, please
be guided accordingly: If you require your order
to be delivered by December 16
th
, 2016, please
place your order on or before December 9
th
,
2016. Any orders placed after this time must be
collected from Hanschell Inniss Ltd. on or before
December 22
nd
, 2016.
NEW CUSTOMERS
Please contact our Corporate Sales Department
using any of the numbers or the email address
provided below. They will assist you with the
completion of a simple New Customer Form.
Please note that should you wish to pay via a
business cheque, we require that you complete
the Trade References section of the mentioned
form, and that trade reference checks may take
up to two weeks to be completed.
TO PLACE ORDERS CONTACT:
Corporate Sales Dept.
Hanschell Inniss Limited
Fontabelle, St. Michael
Phone: (246) 426-3544 ext. 309, 297, 286 or
(246) 426-2525, Fax (246) 431-9614.
Email:
hilcorporatesales@thegelgroup.com
DISCLAIMER: Every effort has been made to ensure
all information and prices in this Catalogue are
accurate. However, note that all vintages and prices
are subject to changes, errors or omissions.
All prices are VAT Inclusive
.
Corporate Gift Guide
WINES | SPIRITS | FOOD | 2016